Well I received so much money for gratuities for yesterday's blog(yeah right) that I have decided to give you another one today with a twist…..I am receiving hundreds of e mails from my female friends telling me that the red rocks are pretty but when you have seen one red rock you have seen enough… how about some photos of your gorgeous self!!!! Who am I to dis appoint my readers ..so todays tour has a special segment…shots of yours truly!!!!
Today is memorial day and I want to say a word about all of the troops, female and male from different countries who daily sacrifice their lives for peace on the planet…Thank you!!!!
I knew today was going to be a 13 hour day and it is broken up into three different sections.
After a good nights sleep and a delicious breakfast I set out to climb Cathedral Rock!!!
The Ranger yesterday gave me great instructions to get to the trail head and off I go…
I am heading for those rocks!!!
The first part of the trail was by Oak Creek a very peaceful and lovely area…
The trail then started to climb
and the views more intense….
Soon I came to the base of the big climb and the crowds although a lot were never an issue
It was a good work out but the rewards!!!!!
The last time I took a photo of Lone Wolf(yes even my back pack has a name) was on the Camino!!!!
This area was incredible and the views awesome!!!
See those folks on that ledge …well as promised here I am!!!!
That is me in the green shirt!!
A popular spot!!
The trip down was easy and I stopped by the creek for lunch!!!
Who said I was not artistic!!!!!
So that was the end of the first section of the day ….I then drove a few miles to another trail head to visit
This is taken from a travel book!!!
Devil's Bridge is the largest natural sandstone arch in the Sedona area. Don't let its name fool you: it's one of the most heavenly sights in an area famous for them.
From a trailhead elevation of 4,600 feet, there's a mere 400 foot climb in altitude during this moderately difficult, 1.8-mile roundtrip trek. The journey to reach the top won't leave you breathless -- but we would never say the same about the views you'll witness when you finally get there.
This popular hike has attractions for both casual hikers who lack the desire or the stamina to stray too far from civilization, and the more adventurous outdoors enthusiasts. Starting at the parking area, follow the trailmarker that points the way to Devil's Bridge Trail. You'll find the early going effortless; the trail, originally built for jeep travel, is smooth and clear and leads you through washes filled with juniper and prickly pear cactus.
The path slowly inclines uphill, gently growing more steep as you progress. There's some beautiful scenery to absorb as you proceed upward, but you've still got a ways to go before you get to see Devil's Bridge itself.
After you've walked about three-quarters of a mile from the parking area, the trail will divide. Head down the path to the left and you'll end up at the base of the bridge. For a cool view, stand directly under the 50 foot high arch and look toward the heavens -- and take care not to strain your neck.
But it's the topside trail that provides the biggest treat. Follow it up a steep, natural rock staircase to a wide open area that offers some fantastic views. Keep going, and you'll reach yet another level that leads directly to Devil's Bridge.
If you have the nerve, you can walk across the top; once you're on it you'll find it's not such a tough walk. But use caution and exercise some common sense; it's a long way down.
It was an easy hike to begin with and lots of plant life…
and great views..
That is where I am heading…
There is that guy in the green shirt again!!!
Again the trail down was easy but I am thankful that I have my hiking stick!!!
So another part finished and I stopped in to a restaurant and had a snack as I needed to be at the pink Jeep company office for 5.30pm for my jeep ride…..as I was sipping on a cold drink I saw this sight outside the window…not very clear but you get the idea…
There were 7 of us in our Jeep
We strapped ourselves in and away we went for two hours of fun and excitement…
Some of the trails were really rough and steep…
We stopped at a wonderful rock formation and I took this photo…
What is the white x you are asking!!!!
No idea how he got up there….the sun was making for some dramatic shots!!!
The above two shots were taken into a small puddle and I tried to get the reflection!!!
Our driver then said we could go for a short hike on the edge of the canyon but to be careful…I guess I did not listen well enough as I found myself in trouble twice!!!!
Nice leg eh ladies!!!!!!
Some more serious shots!!!
It was a great ride and a fun filled and hard hiking day and now after dinner and a long hot shower ready for bed…….I leave tomorrow morning for where might ask…you will just have to wait and see…
A sad story of the power of Mother Nature!!!!
Mexico tornado: Thirteen dead in Ciudad Acuna
Media caption Footage shows the devastation in Ciudad Acuna
At least 13 people have been killed by a tornado that hit the northern Mexico border city of Ciudad Acuna.
Hundreds of homes have been damaged or destroyed in the city, in Coahuila state, just across the border from Del Rio, Texas.
The US state has seen severe flooding, with three killed and a dozen missing.
Images from Mexico showed cars and buildings badly damaged. Many people have been injured and there are fears the death toll could rise.
Coahuila Governor Ruben Moreira, on a visit to the stricken area, said 10 adults and three children had died and a baby was missing. Another 150 people had been taken to hospital, he said.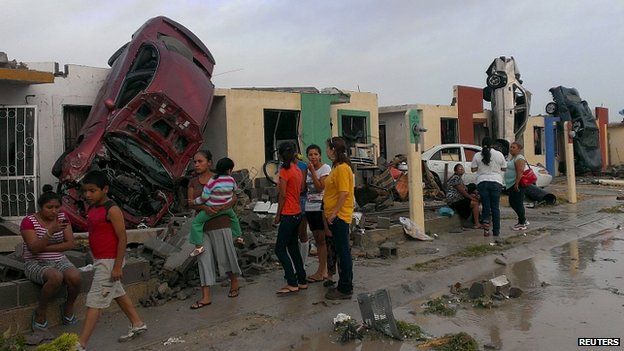 The tornado lifted cars onto houses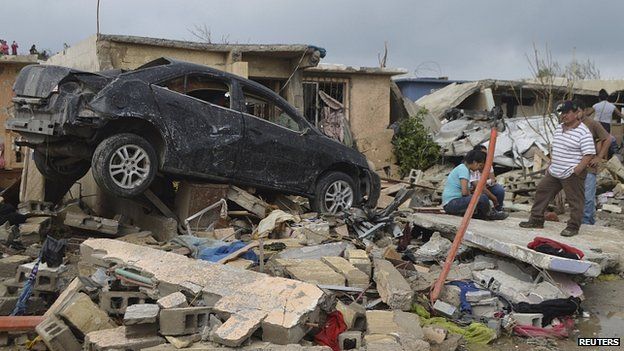 Many residents have lost their homes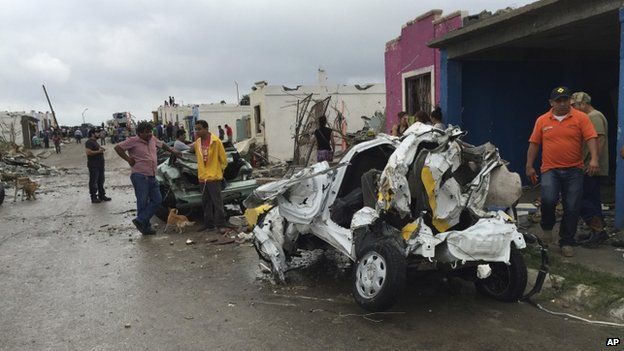 The tornado struck as people were getting ready to go to work
The missing baby had been strapped into the child-seat of a car, local media reported.
"Most of the dead are people who were outside, not people who were inside their homes," said Ciudad Acuna Mayor Evaristo Lenin Perez.
He added that it was the first tornado to hit Acuna since the city's foundation, more than 100 years ago.
Rescuers were searching the 750 damaged properties for more casualties.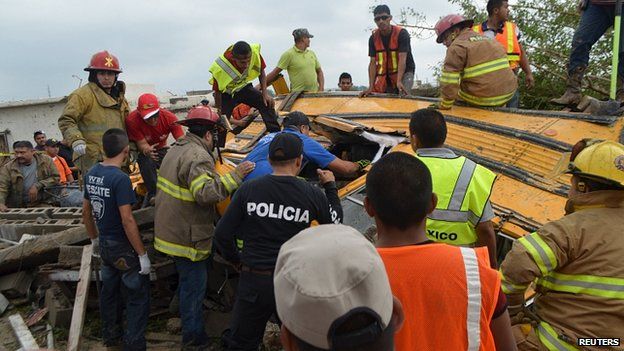 A passenger bus was flipped over and twisted by the force of the storm
"There are cars on top of houses, there are dead people lying in the street, it is total chaos," said local resident Maria del Rosario Ramirez, quoted by Mexican newspaper La Jornada.

The BBC's Katy Watson in Mexico
The tornado only lasted a short moment but that was enough to devastate a community. It struck at a busy time in the morning - people were driving or taking public transport to work. Cars were catapulted towards buildings, roofs ripped off and many vehicles left upended.
Residents of Ciudad Acuna are used to hearing about this sort of thing north of the border in Texas, not experiencing this first-hand. The infrastructure clearly wasn't strong enough to stand up to the impact - the army is helping to search for missing people and neighbouring states have also said they will lend a hand in the rescue effort.

Mexican President Enrique Pena Nieto expressed his "solidarity" with the relatives of the victims and said he would travel to Ciudad Acuna.
He said the government would "take stock of the damage and provide all appropriate support".
Victor Zamora, Coahuila's interior secretary, said an area of about seven blocks had been "devastated" by the tornado, which struck at about 06:10 (11:10 GMT).
Civil protection officials said that eight temporary shelters had been set up for those made homeless by the disaster.
Yashi Kochi!!!!